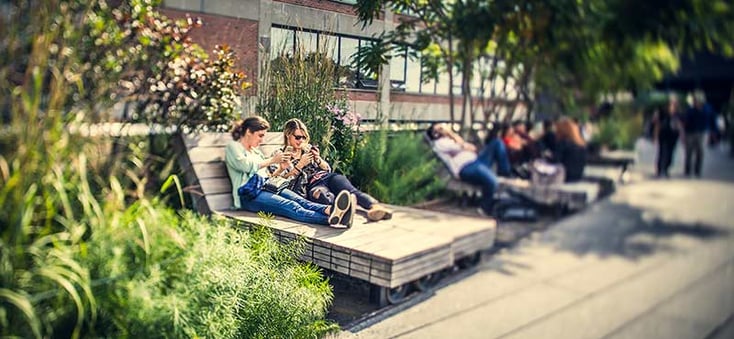 All social media content marketing cannot possibly be hard selling. To help you continue to enjoy your online store's network, soft selling should be amongst the content.
Discounts and special offers is of course hard selling, but what could be the soft selling? Could an online store benefit from it being created and shared by your employees?
Strengthen your relationship with soft selling content networks
One good 'model' for a healthy content mix is 4-1-1. Along with one piece of hard marketing content, one piece of soft marketing content is published, like a tutorial, and four types of third-party content are also shared, such as industry news or infographics.
GENTLE GUIDANCE WITH A BLOG
An inspirational or informative blog offers a gentle approach. An employee ambassador can both share links to articles within their own networks and direct an appropriate answer to a question asked in the network.
It's worth sharing more than just recently published blog articles with employee ambassadors because at its best a blog article takes time and social media need repetition. An employee may not necessarily have time to keep an eye out for new articles, let alone remember what good older articles are available. So offer them content to be shared using an internal messenger system.
Naturally, an employee's personal brand is strengthened even more when they create quality content for the online store's blog.
PRACTICAL WORK FRONT AND CENTER
An employee ambassador through their own content builds the employer's image as well as strengthens their own personal brand as an expert in the field.
By presenting practical work, your employees show customers the expertise of your company and attract potential employees.
For example, if you offer made to order items in your online store, you could use a page right out of Rickshaw Bagworks' handbook:
In the checkout process, ask the customer for their Twitter or Instagram handle as well (a voluntarily completed field!).
In preparing the product or when it's ready to be packed, the employee ambassador sends a photo of their handiwork to social media, mentioning the handle provided by the customer (perhaps the customer will reward this by retweeting the message!).
Rickshaw Bagworks do this on the company's own Twitter account (see the example), and of course nothing prevents that approach either. The employee ambassador can, of course, pass the message on.
COLLECTIONS COMPILED WITH feeling
I recommend matching up an employee ambassador with a buyer persona. In practice, an employee ambassador is a reflection of a particular target group. You can suggest they share the collection of products designed with exactly that buyer group in mind.
This is of course closer to hard selling than the previous methods. The secret of softness is found exactly in that ecological niche trying to be reached. If there is a Valentine's Day campaign in your calendar, why couldn't there be a campaign spread through employee ambassadors to buyer persona Mrs. Jones or someone else in the Smith family?
PAY ATTENTION TO CUSTOMER GENERATED CONTENT
In my opinion, an online store (and other stores too) should encourage its customers to share pictures of products they in social media. For example Costo is doing with hashtag #meandmycosto.
Also encourage employee ambassadors to react to customer content with tools at their disposal (like, comment, resharing with clear source references).
This reaction may very well bring new followers to your employee who can in the future potentially see your harder marketing content.
Likewise, customer reviews can be shared if they have enticing content and are linkable.
The employee ambassador must have something to send. In practice, this means that if the online store wants its employees to send stuff, there must be content created in association online store.
Of course content creation can sometimes be the ambassadors' role or maybe even a customer, but there must be content.
Social selling arises from employee ambassadorship
The employee ambassador is an employee who voluntarily— in order to strengthen their own expert profile — amongst other things, shares their employer's content with their own network. Their networks and the networks of the brand they represent are unlikely to overlap much, so the organization benefits from the employee ambassadorship program through a growth in circulation.
Of course, not every employee is a salesperson and selling is not every employee ambassador's cup of tea either. However, through their interactions with their network, the ambassador creates relationships based on social selling.
A company should focus its social selling to certain buyer personas directly through its ambassadors. For this reason, it's essential to ensure that all voluntary employee ambassadors have a good understanding of tools they use, as well as how to communicate using them. And that they know how to interact with the customer online.
Provide clear guidelines on interacting with customers, particularly for the following situations:
Product related questions
Discussions about products
A competitor is mentioned
Don't throw your employees into the deep end of ambassadorship to cope alone, but instead set up a systematic program to support them. Both your company and your employees will benefit.

Author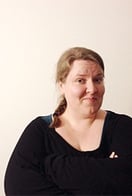 Hanna Takala
Ad, Coach
Zento Ltd
At Zento, Hanna trains different sized organizations and their experts to use social media to their benefit. She is an employee ambassador.
Download our free eBook: Web Shop Conversion Optimization
Do you have a online store that's already been running for a few years, but sales targets aren't being reached?
Download our free eBook and learn how you can increase your online store's sales.

Read more
5 tips for a blog that actually support online sales
7 mines that will sink your webshop