Sales Rescue
Helping You Make All Your Transactions Successful Ones
Sales Rescue recovers abandoned shopping carts!
Up to 60-70 % of online shopping carts are abandoned. Now you can save at least some of them! We developed Sales Rescue to improve your business by recovering orders that were not completed.
The idea is to automatically send an email to customers who didn't complete their order, which gives them another opportunity to complete the order.
Sales Rescue
Reduces the number of incomplete orders
Increase sales by bringing incomplete orders to the customer's attention, this often results in completed orders.
How Sales Rescue works?
When your customer is directed from your shopping cart to the payment method's service, the details of the order are saved in our system even if the customer doesn't complete their order.
Sales Rescue uses the information stored in our system to send an email to the customer with a link to the incomplete order.
The link directs the customer directly to our payment selection page where they can check the contents of the order and pay with their preferred payment method.
When the payment has been made, your shop gets a notification of a rescued payment. The original order is marked as paid in the same manner as all other successful payments. Your shop also gets a separate email about this order.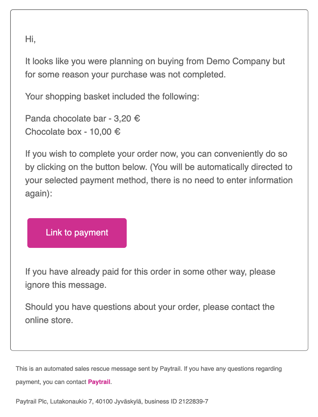 Up to 29 % of abandoned carts rescued
We have received positive feedback from merchants about the feature. Up to 29 % of abandoned shopping carts have been rescued.
"Sales Rescue is one of the important new features for our web shop, with it incomplete orders are taken to the finish line. For us it's worked beyond our expectations because it's so easy to use. When the customer receives an email reminder of the incomplete order, with just one click they can select their payment method. This couldn't have been made easier."
Tapio Ruppa, Anti Shop
What does the service cost?
The service is included in the normal monthly fee and you only pay for successfully rescued sales. For a successfully rescued sale, we charge the normal transaction fee plus a 2 % commission.
How can I get the service?
The service is available with interfaces 5, 5.1, E1 and E2 and doesn't require any changes to the web shop platform. If you are already using our service with one of the suitable interfaces, just contact our customer service (support@paytrail.com). If you don't have our payment service, just order it. Sales Rescue will be activated automatically with the activation of our payment service.
Let Us Help You Succeed!
Getting started is easy, Paytrail is readily integrated into commonly-used web shop software platforms.
Questions?
Our trained experts are here to help you with all your online payment needs. Contact us.