This is how Apple Pay works
You can use Apple Pay to pay in online stores, apps and physical stores.
Apple Pay
Apple Pay is Apple's own payment system. It is activated by adding a credit or debit card to the available Apple device.
You don't need a separate app to use Apple Pay, its functionality is standard on iPhone, Apple Watch, Mac and iPad.
The Safari browser must be used to pay using Apple Pay. With Apple Pay, you can also enter your own payment information and confirm the payment with just a touch or glance.


This is how paying with Apple Pay works in an online store
When a customer pays with Apple Pay in an online store, the payment works like this:
1. Click Apple Pay at the checkout
2. Complete the purchase
Mac or Apple keyboard with Touch ID:

Place your finger on Touch ID

iPhone: Double-click the side button, then authenticate with Face ID on iPhone or use Touch ID.

Apple Watch: Double-click the side button.
For more information check out Apple Pay's support page.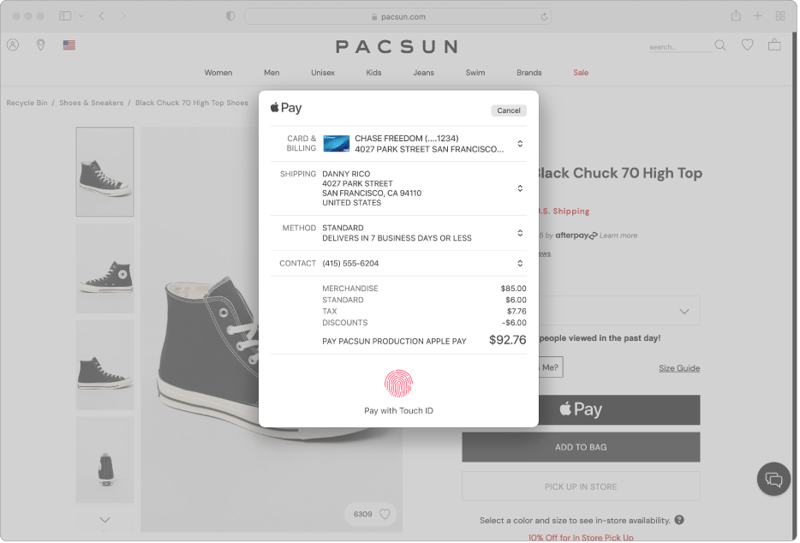 Apple Pay and Paytrail's payment service
Through Paytrail's new payment service, customers can use Apple Pay to pay with Visa and Mastercard cards.
Apple Pay is a payment method included in the monthly fee for the service. The per transaction fee is the same as cards, check our pricing. Refunds are handled in the same way as card refunds.


More than half of online payments are made using smart phones

Apple Pay is a versatile payment solution enabling payments on Apple devices. Apple Pay especially enables easy payment and smooth payment confirmation using mobile devices.
The growth in mobile payment popularity has been a clear trend for years. Whereas, the use of computers has decreased considerably. In online shopping, the use of smart phones has clearly taken over. In contrast, the growth in the use of tablets stopped years ago, and now the trend has turned to a sharp decline.
The data in the image below was collected from Paytrail's payment page from October to November 2021.