This is how Pivo works
Pivo can be used by customers of any Finnish bank. With Pivo, you can pay in online stores, send money to a friend or use a card for contactless payment.
Pivo
The mobile application Pivo is used as a payment method in thousands of online stores and applications. Customers of any Finnish banks can use Pivo as a payment method.
Paying online with your phone is easy, when you no longer need to dig out bank credentials or card info during the payment phase. Payment is accepted at Pivo with one swipe.
All Pivo users are identified via strong identification with their bank credentials. Pivo is offered by OP Financial Group, and the application is subject to the same security requirements as other banking services.


This is how you pay with Pivo
When a customer pays with Apple Pay in an online store, the payment works like this:
1. The items are in the shopping cart.
2. Pivo is selected as the payment method at checkout. If necessary, enter the phone number in the field that opens.
3. Open the Pivo application and swipe to accept the payment.
The image below shows what the payment view looks like in Pivo.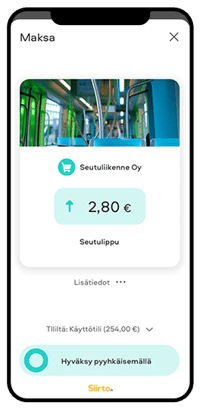 Pivo and Paytrail's payment service
Pivo is a payment method included in the monthly fee for the service. The per transaction fee is the same as cards, check our pricing. Refunds are handled in the same way as card refunds.
More than half of online payments are made using smart phones
The growth in mobile payment popularity has been a clear trend for years. Whereas, the use of computers has decreased considerably. In online shopping, the use of smart phones has clearly taken over. In contrast, the growth in the use of tablets stopped years ago, and now the trend has turned to a sharp decline.
The data in the image below was collected from Paytrail's payment page from October to November 2021.