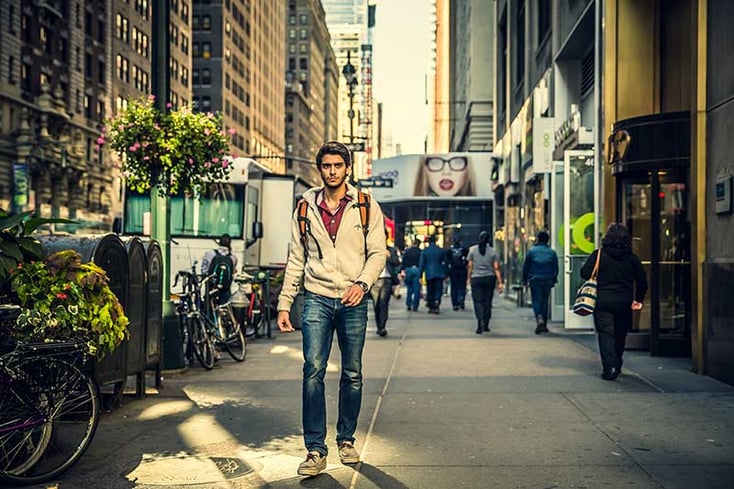 Personalization is the process of customizing an online store's look and feel to match the characteristics and preferences of each visitor. It has two benefits for online businesses. First, it helps to increase the online store's conversion rate. Moreover, in the long run, it can build a higher customer lifetime value. In my personal view, personalization should be used to solve your (potential) customer problems. Let me share my approach with you.
Personalization is all about solving your customer's problems
Personalization is a great tool for solving problems that prevent your website visitors from turning into buyers. The way I see it, you have four categories with which you can easily personalize the shopping experience: promotions, delivery terms, services, and inspiration. Next, I'll go briefly over each of these categories. For more detailed information check this giosg.com's blog.
Promotions and delivery terms
Let's start with promotions and delivery terms. High price and unsatisfactory delivery options are often recognized as deal breakers in online retail. With various promotions and favorable delivery terms, an online store can personalize the customer's shopping experience so that issues relating to costs and shipping are solved.
For example, this means triggering a targeted pop-up offering a discount code or free expedited shipping before a visitor decides against buying from the online store in question. Targeting a promotion for a first-time buyer (note: not necessarily a first-time visitor) is not only a popular way to kick-off a customer relationship but increases conversion as well.
Service
Discounts and different shipping methods can only save some of the otherwise abandoned shopping carts. For example, potential customers might be unsure about the product's fit for their needs or they do not know how to navigate through checkout. Issues like this are solved by matching the right service to the appropriate visitor.
A classic example of a service is online store's customer service offering assistance through live chat and guiding the customer through the checkout using a co-browsing feature.
Thinking outside the box and implementing innovative services can make your online store truly stand out! Website visitors are facing multiple issues that are not directly related to the online store or its offering. Issues might be related to needing an insurance or funds for making the purchase. By partnering with other companies and promoting their services (insurance, financing, maintenance, and so on) to solve otherwise deal breaker situations (read: personalizing the shopping experience) you can tremendously increase your conversion rate.
Just imagine having a potential customer at your online store who does not want to invest in a new mountain bike before having appropriate insurance. You solve this problem by connecting the potential buyer to an insurance company through live chat while he is still on your site. Boom! Additional sales and what a customer experience, one stop shop solving all needs!
Inspiration
Online stores also have visitors who do not know what they want or need. By inspiring website visitors with a proper selection of cool product pictures, images of products in action, educational videos, user testimonials, and so on, you can get rid of uncertainty. Putting it simply, you help the potential customer select what to buy and keep him inspired all the way to "thank you" page.
Throughout your customer's lifetime, you collect vast amounts of data. This data can be used to inspire existing customers and drive recurring sales. Using data from past purchases, your online store can be tailored to encourage each and every visitor on a personal level.
Think about an online store selling the latest fashion. How much more likely is one to buy if store's front page is full of cool pictures of people matching shopper's gender and age wearing the upcoming season's clothes of their personal style. Additionally, one could promote the latest smartphone to a customer who bought his current one from you almost two years ago.
How to get started
Today, you can start by innovating personalized actions (discount pop-up, live chat, inspiring banner) within each of mentioned four categories. When innovating these actions, focus on those that can solve issues. After that, manually target these actions using data from web analytics and customer insights available to you. Here is a handy template for getting started. After your manually targeted actions have amassed enough data, you can start using machine learning to do the targeting.
By personalizing your customer's shopping experience, you solve issues and challenges your potential and existing customers are facing. Solving problems lead to more purchases being made. Improved conversion rate and larger customer lifetime value are waiting. Why wouldn't you start today?
Author
Ilkka Vertanen
Director, Retail & eCommerce
Giosg.com
Ilkka Vertanen is a Director of Retail & E-commerce at Giosg.com - a software company offering a real-time analytics platform to convert online store visitors into buyers.
Download our free eBook: Web Shop Conversion Optimization
Do you have a online store that's already been running for a few years, but sales targets aren't being reached?
Download our free eBook and learn how you can increase your online store's sales!

Read more
How can an online store increase social selling?
The user experience - when purchasing is not enough
Busiest sales days and times of the year for Finnish ecommerce